How many products built before the year 1926 are still in production, in their original form, today?
Cars?  Here was a 1912 Ford Model T:
Toasters?
Telephones?
Computers?
Indeed, there are very, very few products built before 1926 that are built at all today, much less in almost exactly the same form that they were at the time.
But there's a noticeable exception.  John Browning designed no less than fifteen products before his death in 1926 that are still in production, in very nearly their original form, today.
Atop every American tank and armored personnel carrier in service from 1941 until the present has been a Browning M-2 .50 caliber machine gun, first produced in 1919.
The Model 97 pump-action shotgun has been in steady production since, well, 1897.
The "Woodsman" varmint pistol?  Still cranking 'em out.
Even his Model 1885 single-shot varmint gun?  It's been in production, in one form or another, since, ahem, 1885.
And let's not forget today's guest of honor – the M1911 .45 caliber pistol, which was adopted for service by the US Army 100 years ago today.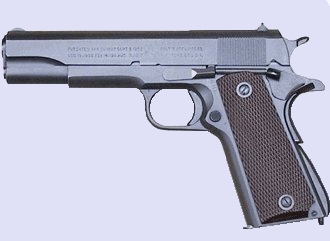 Perhaps the greatest handgun ever built, the 1911 is doggedly reliable, and its .45 slug is a reliable fight-stopper.  It soldiered through five major and countless minor wars, is still among the handguns of choice among soldiers who get to pick their handguns (special operations types, mostly), and it has not been out of production for any significant time in the past 100 years.
All of those firearms have one thing in common; they were all designed by John Browning, one of history's great engineering and design geniuses.
Today is John Browning Day in Utah, the state of his birth back in 1655.