As the world slides into what looks to be a continuation of a decade-long war against terror, I saw this on Facebook yesterday.
It's a reference, of course, to Canada's War Memorial, the location of this week's shooting, a place most Americans don't know much about; it's their "Tomb of the Unknowns", and has the same signficance to Canada's history: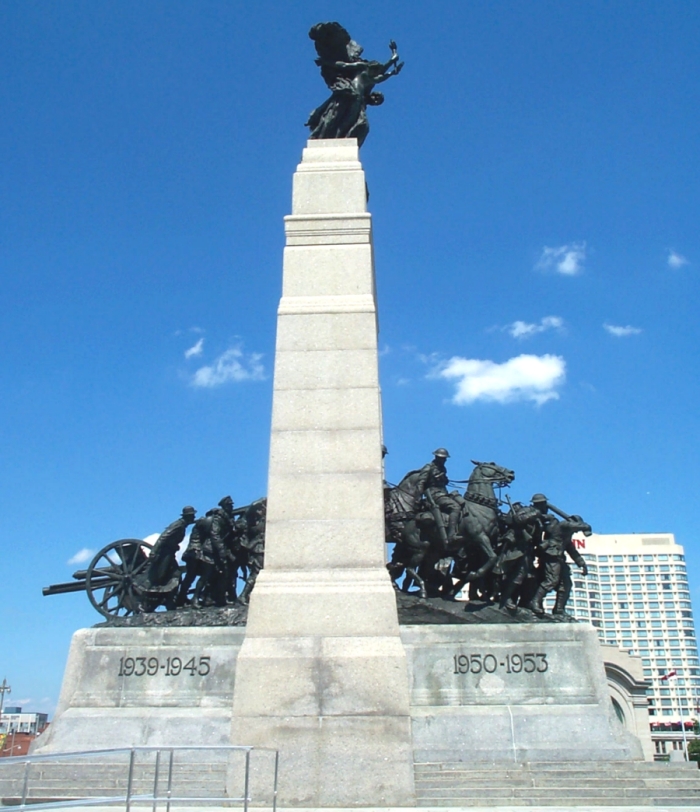 And I got to thinking.
Americans have long given Canada a hard time for its extra "u"s, its occasional passive-aggressiveness, its (to Americans) bizarre parliamentary system, and its tut-tutting about all the things about life in the Lower 48 they just don't get. 
And some of that criticism, over the past 40 years – especially from American conservatives – related to perceptions of Canada's foreign policy, especially as regards defense.  To be fair, Canada's fractioius parliament has given it leaders who did, in fact, qualify as "pacifists"; anyone with the last name "Trudeau", which is to Canada what "Kennedy" is in the US, in terms of political influence and political orientation, would make Paul Wellstone look like Sean Hannity.  Like one of its ancestral parents, France, Canada has a fairly strong sense of "national interest", and they are pretty consistent in operating with it (or the ruling party's interpretation of it). 
But since it achieved independence from the UK not all that much more than a century ago, Canada has not only been there with the US (and UK) when the chips were down, but in many cases punched well above its weight. 
In World War I, 620,000 Canadians served in the military – out of a population that was right around eight million in 1914. 
 In scale, that would be like the United States mobilizing over 24 million people to the colors, today.  And of them, 67,000 were killed and around 250,000 wounded; that's a casualty rate of just shy of 40%.  The Canadian Corps at Ypres was the first target for chemical warfare, when the Germans launched chlorine gas at the Canadian lines; the Canadians, in turn, invented the world's first gas masks, on the fly, by peeing on handkerchiefs and tying them over their faces (better ones followed soon). 
In World War II, 1.1 million Canadians out of a population of less than 12 million were in uniform at some point or another. 45,000 died, 54,000 were wounded, as Canadians fought on every front in the war, in Canadian units as well as in British and other Commonwealth units. 
According to some military historians, Canada, torn between its British traditions and political ties, and the influence and industrial power of its American neighbors, adopted the best of both systems; the Canadian military picked and chose the best of British and American equipment, and organized its Army using a British-derived Regimental system, in which troops served in units with histories stretching back (via the UK) hundreds of years, a system unfamiliar in the US outside the Marine Corps.  Beyond that?  The Canadians imposed conscription – a draft – but stipulated that only volunteers would serve overseas.  As a result, Canadian Army units frequently exhibited a degree of cohesion, motivation and skill in battle well above that of their neighboring American and British units, full of draftees that in many cases very much wanted to be somewhere else (although they, too, won the war). 
And they needed it; Canadians were in the thick of the war. 
 The abortive raid on Dieppe in 1942 was largely a Canadian operation, and the casualties from the disaster were largely Canadian.  On D-Day, the fighting at Juno Beach – the Canadian landing zone – was only surpassed by the carnage at Omaha Beach for ferocity. 
 And the Canadian Army had one of the toughest, least-famous vital battles of the war, the bloody, ugly, largely clearing of Walcheren Island in the Netherlands, which opened up the supply routes that enabled the Allies to carry out the final offensive into Germany. 
Canadians fought in Korea, and manned the West German garrison during the Cold War, with equal distinction.
And today?  Most of Europe's militaries fell into drastic decline after the fall of the Berlin Wall; Germany's once-well-regarded Bundeswehr,12 lean, mean combat divisions in 1987, now fields two divisions of troops largely boy scouts with guns with guns, famously overweight and undertrained; the Luftwaffe, once one of Europe's premiere air forces, couldn't even fly a transport plane full of Ebola supplies to Africa without a breakdown.  Most other contintental NATO nations, save the Poles, have followed suit; their militaries are shadows of their Cold War-era selves.
Not so Canada; it's kept things up pretty well, not only in terms of numbers but training; it's capable of going into action on just about the same footing as the US, UK, Australian and New Zealand militaries – the best in the western, free world. 
Anyway – say what you will, but when I bag on the Canadians, I stick with the extra "u" in color and rumor and honor, and maybe the whole hockey thing.
And my thoughts, like those of most Yanks, are with you all this week.