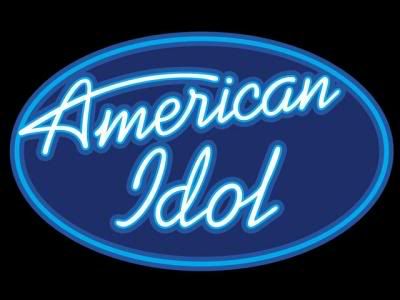 Top 10 Girls performances last night. Recaps and breakdown after the jump.
Standard Warning/Disclaimer:
American Idol is a cheesy, glorified, over-hyped talent show. It's also been the highest rated show in America for almost a decade. This contradiction seemingly compels some people to loudly announce their opinion of the show every time they get the chance – even if that opinion is "I never watch that show. It's garbage!"
The average internet-commenting American has had eight previous seasons to get that out of their system. We hope you enjoyed it. Such deep insights are not needed on these comment threads. Feel free to criticize, mock, and snark about the content of the show. That's part of the sport. But if you don't watch the show, please move along. We really don't need to hear about the superiority of your television viewing and/or musical standards a dozen or more times per season. Those who ignore this warning may find their comments mercilessly altered for the amusement of others.
That is all.
Tuesday night the top 10 guys mostly bored us, as they were unexpectedly asked to lead off the week. They seemed as ill-prepared as any top 10 guys group in a long while. I got two highlights out of the night and a lot of lowlights.  We were hoping the girls extra day of practice breaks that hideous trend.
As for the girls, to say there are a few of them on the cusp of elimination if they don't improve is to redefine the word "few" into "almost all of them." I say "almost" because judging by post-show popularity polls, Crystal Bowersox and Lilly Scott seem to have developed decently invested fan bases already, which should see them through all but an on-stage meltdown. None of the rest can afford a clunker performance though.
Crystal Bowersox was the subject of the hot rumor of the day, hinting that illness was going to force her to withdraw from Idol, which would seriously suck. With Andew Garcia fading on the boys side, Crystal is my overall favorite Idolateer at this point. As the show began we quickly learned that Crystal is not only alive and well, but leading off the show's performances. Would her recent bout of ill health bring her performance down? She's singing "As Long As I See The Light" by CCR – a bold choice and a really cool one. As she starts to sing there is little sign of any weakness. Her voice is strong and controlled as ever. She's brought a kind of gospel vibe to the old John Fogarty song which totally works. She's got the audience in her hand from start to finish. A stunningly strong performance to lead off the show. The judges all praise her to the skies, with Simon declaring that she's had a breakout moment declaring herself a serious artist. Quite a turnaround from his comments last week.
Haeley Vaughn is already having a kind of "love or hate" reaction with a lot of Idol viewers. Some people seem to think she's just ear-pluggingly awful. Others find her charming and infectious. There's not a whole lot of people stuck in the middle on this one. I really liked her last week, mostly based on personality and originality. Others hated her for vocals and weirdness. Can she find a way to bridge that gap? She's singing "The Climb" by Miley Cyrus. Meh… I don't love the choice. But Haeley is hard to pin down. She starts to sing and… it doesn't go well. Gone is her guitar and a lot of the funky, unpredictable spirit this week. Her weak control of her voice is pretty exposed in this song and there's just nothing to hide behind. The judges, who were mixed on her last week, all pile on this week with the main message seeming to be "you're too young and not ready."
Lacey Brown, frankly, deserved to go home last week. Behind the scenes rumors said she had a fantastic dress rehearsal but absolutely fell apart once the live cameras were on her. I can only attest to the latter part. Since the judges all insist she's WAY better than that, let's hope we get to see it this week, as I think she only survived on pity. She sings, "Kiss Me" by Sixpence None the Richer. And… she sounds a heck of a lot like the song as you'd hear it on the radio. That's kind of a good thing considering her awful performance last week. But it's pretty bad when you consider how much the judges are nailing people for lack of originality this season. Really overall it was a kind of nice performance. Simon calls it forgettable, and sadly for Lacey he's pretty on the money.
Katie Stevens is cruising sky high on the basis of her sympathetic screen time in the prior rounds, but she also pretty much blew the initial pimp slot last week, turning in a dull rendition of a Michael Buble song. She's floating middle of the pack trending down at the moment unless her performance meets her build up right now. She sings, "Put Your Records On," by Corinne Bailey Rae. She starts off pretty strong. It's better than last week. The she hits the middle part of the song and kind of starts to lose it. It's too low for her voice and it's causing her to wander a bit both in volume and pitch. Then she kicks it up near the end, sounding quite a bit better, but the overall impression is definitely mixed. The judges are not won over and try to explain to her how to sound younger. She doesn't seem to get it.
Didi Benami just about had the judges throwing rotten tomatoes at her after her performance last week, which was frankly bizarre. She sounded pretty good especially in light of most of the other performances. I have a feeling they have picked out the box they want her to stay within, and jazzy, stylized vocals are not it. She sings, "Lean on Me," by Bill Withers. Umm… okay, well that is certainly a change. It's… not very good. She kind of bounces around showing a decent tone a lot of the time, but it's just weird in other ways. If she was auditioning to lead a sing-a-long this might be okay, but this sounds about as far removed from a "hit" as you can get. It's an often recycled song sung in a pretty recycled manner and just… doesn't work. The judges really lay into her without a decent reaction from any of them. Didi looks shell shocked.
Michelle "Corporate Singer" Delamor was pretty, in tune, and dull last week. The judges seemed to suggest last week that she's like the Applebee's of the competition – reliable, predictable, and bland. Say who picked her for the top 24 anyway?  I have to think she's going to try to show more to prove them wrong. She's singing "With Arms Wide Open" by Creed. Well there's a shot at changing things up, right? Creed? Michelle "Corporate Singer" Delamor? Actually this sounded a lot more interesting than it proved to be. Michelle "Corporate Singer" Delamor changed up this Creed song to the point it could have belonged in the repetoire of Whitney Houston or Mariah Carey. Despite being able to say "Hey, I did a Creed song!" this was really a lot like last week. Pretty, predictable, and bland. The judges all compliment her on her looks but not her singing, which is never a good sign. Who's up for some mozarella sticks at Applebees?
Lilly Scott was one of the few who really seemed on her game last week, turning a quirky Beatles song from Sgt. Pepper into a differently quirky Lilly Scott song. So far the judges love her because she's different, and the audience seems to be following along. She's singing "A Change is Gonna Come," by Sam Cooke, and let me be the first to say "woah!" I didn't see this song choice coming, and it's a bold one. I also don't see how Lilly's style can possibly deliver on this kind of song but, let's see. She's self-accompanying on 12 string guitar. It starts out pretty traditionally. She hasn't done a lot of weird things to the arrangement. The interesting thing is just her voice… kind of like Katherine Whalen at times, Duffy at others, and just something unique in the way she brings it together. By about the middle of the song all doubts about her ability to carry this off are gone. She's really nailing it tonight. The judges absolutely love it.
Katelyn Epperly was a solid middle-of-the-pack singer last week, but as the "pack" wasn't all that great she's hardly in a position to get comfortable. She's singing "The Scientist," by Coldplay, which is another pretty unusual choice tonight. What's more she's going to self accompany on the piano which I don't think we knew she could do. It's a very slow arrangement, bringing her vocals and ability to convey meaning into sharp focus. And … you know she actually handles it pretty well. MUCH better than I would have ever guessed she could. She may not have the most powerful voice in the competition, but she has really nice control and seems to know her voice better than a lot of others. Overall a really solid performance, moving Katelyn up a few notches in my book. The judges kvetch that it was too slow which made it dull… which it was but it didn't.
Paige Miles had a goofy song choice last week, was stuck with the generally disadvantageous lead off spot, and was basically unknown before that. That could have been a fatal combination. But either Paige showed enough vocal talent and spark to hang around another week, or Simon's mysterious comment that she had the "best voice in the competition" was intriguing enough to earn her the votes. That allegedly great voice had better show up more noticeably this week though. She sings, "Walk Away," by Kelly Clarkson. And we finally start to see that rumored vocal talent start to shine through. The song is pretty peppy, but it's not "rock" like she attempted last week, which is good. It's a really solid performance. The judges are kind of mixed, and Kara spends way too much time trying to put the focus upon herself for writing the song.
Siobhan Magnus was one of my favorites last week, if not the judges'. She's got that super-powerful voice we saw in the earlier rounds, but took it in an entirely different direction showing us something new. The word on Siobhan around the commentariot this week has been "darkhorse." She's singing "Think" by Aretha Franklin, because she wants something super powerful she can show off her voice with or something. It's a dangerous choice. Aretha doesn't have "Holy Diva Trinity" status on this show, but everyone knows her stuff and expectations will be sky high. It's a little strange at first. Siobhan looks about as non-Aretha-like as you could possibly imagine. But the vocals are…. almost there. Not quite. But it's pretty close. That's impressive, but not enough. But then, to finish off the song, she lets out this one amazing note… it's impossibly high, in tune, and held for a ridiculous amount of time. Wow. THAT note rivaled the original Aretha. Who saw that coming?! The judges looks pleased, confused, and amused. They really cannot nail down Siobhan's niche but they like her. That last note has Randy floored, and he brings it up approximately forty seven times before the end of the show.
So that was it. The girls finished up quite literally on a high note. And it was that kind of week for them. Definitely more solid top to bottom than the guys' performances. A few already seem to be separating themselves from the pack, and unlike with the guys it's not just judgey hype doing it (I'm looking at you Lee "Grunge Retread" Dewyze).
Best of the night is a tough call. Certainly Crystal Bowersox and Lilly Scott are up there, and almost surely the top two. Crytal's song was more to my liking, but I've got no problem seeing Lilly in her league this week. However I think Katelyn Epperly and Siobhan Magnus also deserve special mention. They weren't as flawless as Crystal and Lilly, but both really opened up new heights for themselves and solidified their positions near the top.
Worst of the night… Sorry to say it but it was probably Haeley Vaughn most of all. Didi Benami is another deserving a call out for the bottom here. Lacey Brown and Michelle "Corporate Singer" Delamore perhaps suffered mostly for being boring and forgettable rather than anything truly bad, but that can get you eliminated just as readily.
Going home for the girls this week? Hard to say. Haeley and Didi might have enough fans at this point to keep them going over the better but more forgettable Lacey and Michelle. Let's split the difference and say… Haeley and Lacey are going home this week. We'll see tonight.