I'd be remiss if I missed the fact that today is the official Shot In The Dark holiday – Ronald Reagan's birthday.
Reagan is a great conservative hero for what he wasn't as well as for what he was.  In an era when people thought the entree to political leadership was a degree from an elite university and a lifetime spent currying favor and working within the establishment, Reagan was a small-town midwesterner who'd gone to an obscure college and spent most of his adult life doing other things; a sportscaster, an actor, a pundit.  He was well into middle age before he got into electoral politics.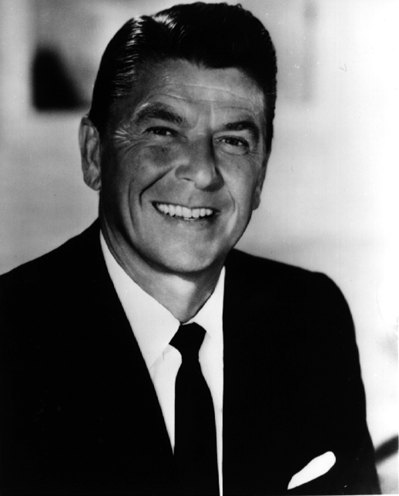 This confounded his critics, who believed that the true measure of a 50-something man of accomplishment was a degree he'd gotten when he was 22.
He was, in short, pretty much like the rest of us – as Dinesh D'Souza noted, an ordinary man who became an extraordinary president.
He really had two great accomplishments.  For starters, he had an uncommon gift for translating immensely high concepts – the economics of Hayek, the philosophy of the Federalists – into terminology that resonated with people who'd never sat through a politicial science seminar.
He also had a singular knack for envisioning a goal, and focusing on it with a genial ruthlessness that drew his supporters down the path, no matter how difficult, and outlasted his opponents, no matter how well entrenched.
He convinced a demoralized nation coming from an era of spirit-sapping lethargy that we were a shining city on a hill:
 And he talked the greatest criminals in history into putting down the gun and putting their hands up:
 Conservatives need to constantly remind themselves that a leader like Reagan only comes along once in a lifetime, if that.
And yet today we may be seeing the ultimate tribute to Reagan.  Millions of Americans are rising up and doing the Reagan thing for themselves.  Knowingly or not, they're standing astride the Keynesian stream and yelling "Hayek".   They're going to the polls in places like Massachusetts and saying "If you want prosperity, tear down this stupid statist tradition".  They're gathering in their hundreds of thousands and saying "our nation is a shining city on a hill – and it's not because of our bureaucracy; it's because of our indivisible prosperity and  sacred liberty!".
That millions of Americans are channeling the best of Reagan as we approach his centenary – he'd have been 99 today – is perhaps the best legacy of all.