Justice Scalia,  dead at 79.
Dear so-called GOP Senate majority; if you never deliver any other thing, you had better come through on this.
More tomorrow/Monday.
UPDATE:  There's hope: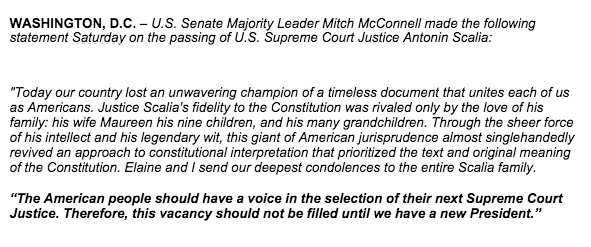 Thin hope, but hope nonetheless.
UPDATE II:  The NARN Curse?   Ronald Reagan, Pope John Paul II, Terry Schaivo and now Scalia, all initially reported dead moments after the NARN goes off the air (after discussing them) on Saturday.
UPDATE III:  Sean Davis of the Federalist:
"If Donald Trump wants to end this race tonight, he'll vow that his first act as president will be appointing Ted Cruz to the Supreme Court."
There's something to that.  As I noted today while the NARN was on the air, the sole reason I'd vote for Trump if nominated is because of the chance that Scalia or Kennedy would leave the court.   Knowing that Scalia would be replaced by a solid conservative justice – as Cruz would be – would calm my conscience greatly.