…even as Congress flagellates our grandchildren with debt and inflation looms around the corner, that some things never change.
Like the excitement America feels for the marriage of Hugh Hefner and Brittney Cummings Ashlee De La Tata Desirée Van Hondestijl "Crystal Harris":
Hefner, 86, married fiancée Crystal Harris, 26, in front of family and a few close friends at the Playboy Mansion in Los Angeles on Monday, the magazine publisher confirmed on Twitter.

"Crystal & I married on New Year's Eve in the Mansion with Keith as my Best Man. Love that girl!" he Tweeted early New Year's Day.

The bride wore a floor length strapless gown in soft pink and the groom wore a traditional black tuxedo, Playboy Enterprises said in a statement.

After the ceremony came a private reception with a champagne toast and the bride and groom cut the wedding cake.
And then the incident zone wedding was put under quarantine as the guests and all furniture were sprayed with emergency disinfectant.
Just look at the lovely couple: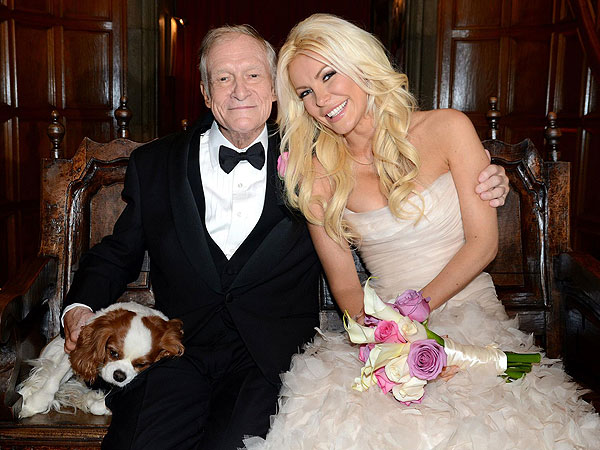 The dog is the only one of the lot that should be voting, if you catch my drift.
Still, after a decade (?) of hearing about Kardashians and "Real Housewives", Hef almost seems…wholesome, doesn't he?  In comparison, I mean?
And the pre-nup has to be a work of engineering not unlike the Verezzano Narrows bridge.