And it's a double-shot of musical birthdays, today; I had no idea until I started writing this. Anyway – today is also Nils Lofgren's birthday. He's 57, not that you could tell.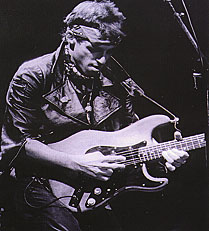 He's most famous, at least among the latest generation or two of music fans, as the virtuoso third guitarist in the E Street Band.
And that's cool; Lofgren added a depth of texture and skill that Springsteen's put to great use in the last 24 years, leaving his mark on some of Springsteen's best work in the past couple of decades; the blistering solo in "Tunnel of Love" (and throughout the rest of the album named after the song), the broad, crunchy slide rhythm work on "The Rising", and much, much more.
But it also short-changes the music-listening public. I was a Lofgren fan long before he joined the E Street Band before the Born In The USA tour.
Part of the draw is that he is, as Dave Marsh memorably put it, America's great unknown rock and roller. His pre-Springsteen stuff – "No Mercy", "Beggar's Day", "Keith Don't Go", "Night Fades Away", "Cry Tough" – was sometimes eclectic, and always featured out-of-scale amazing guitar work, but at the end of the day it was always great old-school rock and roll; he resisted the currents of the seventies and the eighties pretty successfully (other than the regrettable I Came To Dance, a "Miss You"-derived foray into disco of which the less said the better) and still sounded fresh and vital.
Part of it, for me as a guitar player, is that his style is just so damn inscrutable. Unlike most guitar players, he fingerpicks – which is quite common among folkies and country players, but very rare among rockers. Unlike the best-known electric fingerpickers, like Richard Thompson and Mark Knopfler, he uses steel fingerspicks – think prosthetic steel fingernails that you slip onto your fingers – which he uses to for a hard, sharp, brilliant attack. And the part that I find the most vexing and thrilling is his ability to get, at will, the most intense pick harmonics (there's no way to explain it to non-guitarists, although the solo that starts about 4:30 into this video of his most famous solo has a ton of 'em) of anyone who ever picked up a Strat. Trying to copy Lofgren – his style, his tone, his idiosyncracies – is the only thing in the world more vexing and yet fascinating than trying to copy Richard Thompson.
So happy birthday, Nils Lofgren, and many more.