Mark Steyn on hashtag diplomacy:
Plenty has been written about all the things that this photo…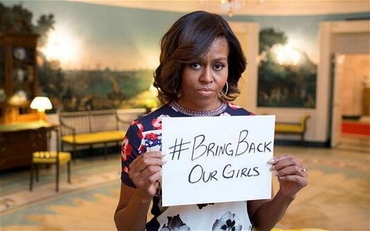 …says about the United States today.  None of them good.
Steyn notes – as many have quoted – that it's certainly not going to matter of inveighing Boko Haram (Nigerian for "So Long, Suckers!") to "give the girls back".  Someone's going to have to either engage in some incredibly tough negotiation (the Bokos know they hold the cards), or take them back, if they can be found (and it's likely they can't).
But he brought up two other points – both of them tying the Boko Haram kidnappings to a story I wrote about last week, in which a California school issued an assignment asking students to present evidence that the Holocaust never happened.
Being unaware of the background details, I thought it might juuuuuust be possible it was a debate point, asking kids to step outside their comfort zone (waaaaay outside) to debate a point.
It wasn't, of course (I'll be adding the odd bit of emphasis) not, and my vestigial faith in the integrity of public school teachers is, as all-too-frequently, wasted:
That's never a smart idea. The California schools superintendent who wanted his Eighth Graders to turn in essays arguing that the Holocaust didn't happen is called Mohammad Z Islam. That's why they got the assignment, not because they wanted to turn themselves into the Oxford Union. As Laura Rosen Cohen pointed out, there are all kinds of lively topics Mr Cooke might propose for our schools: Did Mohammed exist? What's the deal with his nine-year-old bride? But in the real world even mild questioning of whether Islam is a "religion of peace" is beyond the pale, and across the Continent the Holocaust is disappearing from school curricula.

That's the problem. There's no point winning an Oxford debate if the other side win everything else.
And he notes that modern eighth-graders rarely know what the Holocaust is, much less how to have an Oxford Union-style debate on the subject.
And of course…:
In 1984, George Orwell wrote, "Who controls the past controls the future. Who controls the present controls the past."
And it's be hard to argue that the good guys are winning the present.