With yesterday's passing of Les Paul, there was really only one option for Hot Gear Friday today.
I wrote this piece about 18 months ago:
It's a '57 Gibson Les Paul Standard, one of perhaps the three most sought-after electric guitars in the business. I recall reading that they went for $279, brand new out of the Gibson catalog, during Ike's second term. When I first started playing guitar during the Carter administration – before the guitar collectors market went insane – they were already going for a stellar $3,000; thirty years later, some of them fetch mid-to-high five figures.

The tiger-stripe lacquer finish and the brick-heavy body create an afternoon's worth of sustain. The action, like most Gibsons, is nice and low; your fingers just race, which is disconcerting to a Fender player like me. Even thirty years ago, the whole assembly – aged nicely even then – yielded a sweet, round, weathered tone that was the tonal equivalent of James Earl Jones' voice; it had credibility just because of how it sounded.

I played a '57 once – not a tiger-stripe, but a Gold-Top, its first cousin – that a friend of the bass player in my very first band had picked up ten years earlier for maybe $100, before the collectors value became established. I'd been playing guitar for maybe two years; I had a long way to go. And yet strapping that bad boy on was like sitting in an F1 Lotus after learning how to drive a combine; it's hard not to feel like a guitar hero playing a '57.
The Standard is the iconic representative of the line, but "Les Paul" is to guitars as "Europeans" is to people; there are many different varieties, some of them very dissimilar.
There was the Custom…:

…which added a pickup (usually) and a bunch of extra ivory, and switched to a mahogany rather than maple top, giving a mellower tone (which has translated to lower values on the collector market).
There's the Deluxe…:
…originally with either mini-humbucker or P90 pickups, which didn't really take off.
The Les Paul Studio…:
…which was a high-end "just the basics" version aimed at studio musicians, omitting the ornamentation and binding but going high end on the body construction and electronics.  Playing a Studio is an interesting experience; it handles like, well, a high-end Les Paul.  But there's something about guitar marketing; while it probably played the same as a Standard, there was something that just felt – emotionally, not physically – downmarket.  There's something about the whole "Les Paul Experience" that's as much look as sound.
Of course, I always preferred them to the Juniors…:
who certainly have their adherents (Billy Joe Armstrong, Paul Westerberg), but always felt thick and unresponsive to me, a Fender guy.
With all the mythology based around the Les Paul, it's hard to realize that Gibson was actually losing market share to Fender and their lighter, less-expensive Stratocaster.  To the threat, they responded with the SG – basically a lighter, thinner body with a double-cutaway body:
I never cared for them – I always liked my Ibanez knockoff better – but they did sell like hotcakes.  Looking at video clips of seventies bands, SGs were everywhere.
But it's the Les Paul that is the rock and roll icon – from the sixties,
…the seventies…

…the eighties…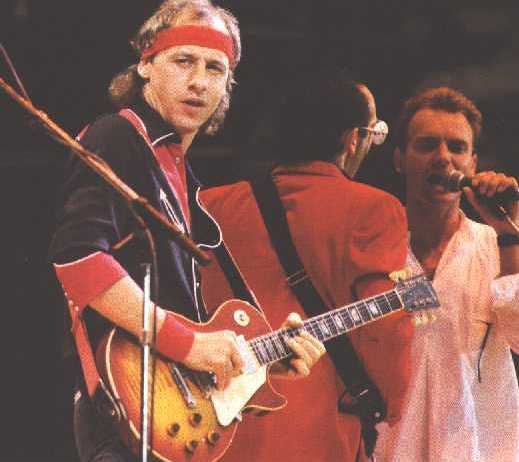 …nineties…
…well, you get the picture.