Ass-Hawks: A Question of Integrity
I make a point of reading lefty blogs. Lots of them.
You can thank me later.
First things first: I apologize for everything untoward that I ever said about Mark Gisleson. Having read some of the competition, he is now near the top of the list.
One site - "Jesus' General" - is a sort of "satire" site; it is to Scrappleface as Benny Hill is to Monty Python. It deals in the sort of broad, hamfisted japes that one might think would grab people who listen to Mike Molloy and think that Howard Dean is mainstream - or, for that matter, that Kos and Atrios and Ollie Willis are good blogs.
Their latest - a challenge to "College Republicans" to join the military.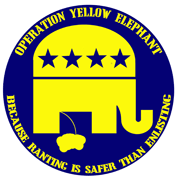 If it's not crudely scatological, it's not a leftyblog production!
Anyway, the "thought" behind the "campaign" is roughly this:
Since you wingnut college Republicans support the war, you'd better enlist!
Hm. It'd be interesting to find out if college Republicans (or college students who identify themselves as GOP)
do
join the military at higher than average levels. I doubt that the statistics are kept, but I'd suspect that it's probably true; how many ROTC students do you suspect are Democrats...
...but never mind. The real point is to take the "logic" of this idea and make sure it's applied consistently. One of the left's favorite mindless memes (let's call them "Mimes") is the "chickenhawk" meme, where if you didn't or don't serve in the military, you supposedly can't comment in favor of the war.
And yet, many of these same Democrats pointedly avoid putting their own butts on the line when it comes to their own pet zealotries. These people I hereby christen "Asshawks".
So, Democrats, here we go: We're going to plumb the depths of your personalities and find out how important "integrity" really is. We're going to find out if you're an Asshawk.
Let's get started:
If you believe in single-payer health care, but have private health insurance: Have you marched down to the Department of Motor Vehicles, handed your paperwork over to Gladys the depressive dyspeptic behind the counter, and told her she's in charge of all of your life and death health decisions?
If you were one of the moron leftybloggers who posted photos of George W. Bush in the crosshairs - an implicit threat of violence - do you plan within the next 90 days to come up out of Mom's basement, and go mano a mano with the Secret Service in an attempt to harm the President?
If you oppose school vouchers, have you dropped out of your private university or private high school/prep school? Have you MacAlester and Saint Thomas and Hamline kids transferred to Normandale or Metro State yet?
If you opposed carry reform, have you walked to the corner of Payne and Minnehaha (or Franklin and Chicago, or any tough street where you live), found a rape about to happen, and told the victim-to-be "resisting with lethal force would only debase society"?
If you have ever called a war supporter who didn't serve a "chickenhawk"; have you ever been in a situation where you served others in a position where you had little control over your own use or disposition, and where walking away without consequences wasn't an option?
If you claimed you were going to move to Canada after the '00 or '04 elections; are you reading this while taking a break from watching "Hockey Night In Canada", drinking a LaBatt's, and trying to figure out how to make MS Outlook do Task List dates in 2007 so you can put in a reminder for your root canal appointment?
Have all of you who think Abu Ghraib or Guantanamo involved "torture" in the sense any real torture victim would understand actually read - in color, with details - about what Joseph Mengele or Pol Pot actually did?
If you thought the US was wrong to invade Iraq, did you fly to Iraq to serve as a human shield? Not as a pampered "Information Ministry" guest, mind you, but as a common Iraqi?
If you believe life for the average Iraqi was better before Hussein's fall - if you believed Michael Moore's depiction of pre-'03 life in Iran as an idyll of kites and happy children - have you flown to Iraq, to Kurdistan, to the Marsh, to the Iranian border, and said it in as many words to the locals?
If you answered "No" to
any
of those questions...
...then you are an Asshawk!
Posted by Mitch at June 20, 2005 05:22 AM | TrackBack