Note to Duane Patterson
Via whomever runs this blog, I found this piece on Laleh Seddigh, the first Iranian woman auto racer and, now, Iranian national racing champion.
Pardon the Powerline-like swerve into cheesecake: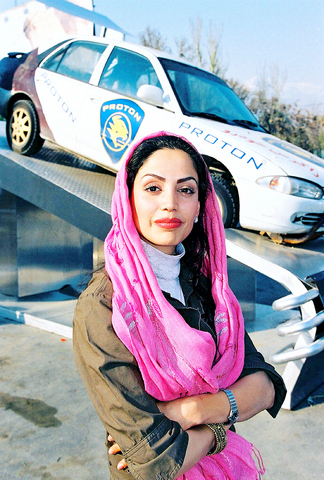 Says the Times:
Ms. Seddigh is the oldest of four children. When she was 13, her father taught her to drive on weekends in a park on the outskirts of Tehran. At 23, she began racing miniature race cars that had more in common with go-carts. She also entered three-day cross-country car rallies, in which she had to change her own tires and make her own repairs. "I had to do everything by myself," she said, "because my navigator was a girl as well."

THE opportunity to compete against the boys came last year, when a new president took over at the Iranian racing federation who was open to allowing a woman to enter the men's races. There has been a lot of jealous grumbling from many of the male drivers, Ms. Seddigh said, but others, like Saeed Arabian, Iran's previous national champion and now her driving coach, are proud of what she has achieved.
With all respect due to NASCAR fanatic Duane Patterson, this beats the tar out of NASCAR.
Well, maybe not as far as racing goes. Work with me here.
Posted by Mitch at May 18, 2005 04:38 AM | TrackBack