SCENE:  Mitch BERG is at a hardware store, shopping for a chainsaw sharpener, when around the corner steps Bud GUNKEL, chairman of the CD2 chapter of "Former Republicans for Ron Paul".  
GUNKEL:  Hey, Merg.  The only way to fix the system is…
BERG:  …yeah, I heard it.  To "withhold your consent from it".   Feel free to tell the IRS, the BATFE and the Minnesota Department of Revenue you've "withheld your consent"; I'm sure everyone will get a good laugh but you.
GUNKEL:  He who would trade freedom for security…
BERG:  …deserves neither.  Good Lord, Bill, do you people ever communicate in anything but the form of clichés?   I mean, do you even know what that means?
GUNKEL:  It means he who would trade liberty for security deserves…
BERG:  …neither.  Yep, I got that.  Again.  I mean, have you thought through what it means?
GUNKEL:   What are you talking about?  What else could there be?
BERG:  Here's another quote for you; without order, prosperity is impossible.  Without prosperity, liberty is pointless.
GUNKEL:  So you'd give up…
BERG:  …no, no, no, stop right there.   Here's a quote back atcha; without order, prosperity is impossible.
GUNKEL:  So you want to be like a herd animal…
BERG:  No.  "Order" is a very broad term!   It just means that there's a general understanding that everyone is playing by the same rules, and that if you bring you product to market, there'll be consequences for people who try to steal it on the way to the market, or swindle you when they get there.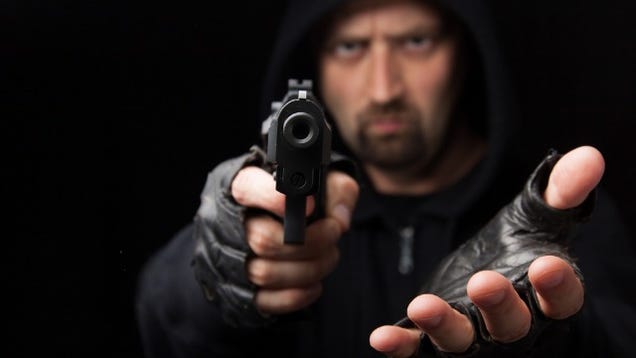 "Order" can mean "a voluntary agreement that whose end of, everyone holds up", like the anarchists say; that's perfectly legitimate.  And it can mean full-blown Danish bureaucracy regulating the transaction, or a medieval baron making sure everyone upholds their end of the bargain for the good of his fiefdom.   And the whole American experiement was built around the idea that order should be maintained with the minimum amount of government and force possible – while allowing for the inevitability, given human nature, that some was likely to be needed at some point.
GUNKEL:  So you mean government!  Government is theft!  Nothing but!
BERG:  Sure, if you let it get out of control.  And we in the US largely have, and that's a very valid discussion to have.  But the fact is, human nature being what it is, it's inevitable that if the means of keeping order disappear, while 99% of the people will be just fine, there's that 1% who'll decide that what they want is what you got.  It can be a mugger, it can be those accursed Methodists, it can be that whole group of people over the ridge that think your ancestors stole from their ancestors, whatever.
GUNKEL:  So you're a warvangelical?
BERG:  No – I merely observe human nature.  As I observed in my book, while the vast majority of humans are perfectly content to live and work and produce and interact peacefully, there are some that prefer to take what others produce.  It's just easier.
GUNKEL: So  you'd give up freedom for thirteen pieces of silver?
BERG:  Wow – way to mix milieus.  Here's another quote for you:  without prosperity, freedom is irrelevant.  If you don't have prosperity – if you're a hunter-gatherer or a subsistence farmer – "freedom" is a very relative thing.  You're free to speak and worship and assemble – but you're busy seeing to your survival from dawn to dusk, year-round, like a medieval fyrd.  Which means not only are your more abstruse freedoms irrelevant, but you have neither the time nor the energy to see to things like prosperity and order – making you ripe pickings for anyone who wants to take what you've worked for.  And this time you'll have no surplus to see to your very survival!   Which is, by the way, a condition that also makes you ripe pickings for whomever would call himself your king, either against your will or, as tired and close to starvation as you are by this point, with your full consent.
GUNKEL:  So you will trade freedom for security!  Hah!
BERG:  You make it sound like a binary, black or white thing.
GUNKEL:  It is!    If you don't have all the freedom, you have none of it!
BERG:   That's just madness.  You say because the American people have given up some freedom, we're no different than North Korea?
And no.  I won't trade my freedom, all or nothing, for security – not while I have anything to say about it.   I will, as a constituent of a limited government that has a few carefully-enumerated jobs, engage some agents to keep the order we all need.  And no more.
GUNKEL:  That's not how government works today!
BERG:  You're telling me!  Y'see, that's the problem with "libertarians"; they take poli-sci class absolutes and try to apply them to the real world.   So I'll do it back atcha:  without prosperity, freedom is academic; without order, prosperity is impossible.  Therefore, without order, paradoxically, freedom is impossible.
GUNKEL:  So you say freedom is impossible?
BERG:   Nope.  I am saying that while absolute tyranny is very possible, absolute freedom cannot exist in a world where others have the "will to power" to become tyrants.
There is a trade-off; it's the job of a free people to simultaneously see to the order that enables the prosperity that makes freedom possible, and make sure the "order" they create doesn't become oppressive.
GUNKEL:  All involuntary order is oppressive!
BERG:  So you throw off a "government" that governs by consent of the governed…
GUNKEL:  Yes!
BERG:   And live in a world with only "gentlemens agreements" for order…
GUNKEL:  Yes!
BERG:   So that you can be conquered or killed by someone who took advantage of the fact that you have no means to see to public order?
GUNKEL:  Er…yes!  Better dead than…er…
BERG:  Naturally.
And SCENE