As we approach the seventieth anniversary of World War II, I've found myself more and more fascinated by the stories of the people who left their conquered homelands to carry on the fight.
I've tried to imagine what that must be like; to see your homeland being brutalized, and to pack up and not only leave your home, family and life…
…but to do so not as a refugee, but as a soldier or sailor, to carry on a fight in perpetuity against absolutely no guarantee that it'd ever be rewarded, to eternally face the soldier's risks of dying in some foxhole or ship compartment far from home, all the while knowing that everything and everyone you know is back "home", under the thumb of a hideous  tyrant, waiting and praying for you to return with a few thousand friends to kick occupier ass.
People from all of the conquered nations fled their homes to fight on; hundreds of thousands of French repudiated the reputation for "cowardice" that history has slapped on their nation (more on that next June) and fled to England or Canada or North Africa to carry on the fight; Norwegians and Danes and Dutch and Belgians, Czechs and Hungarians and, later on, Italians and even a few Germans risked all to not only fight on, to risk all the usual horrors that stalk soldiers and the additional risk of being murdered as a "traitor" if captured.
And the most poignant of all the stories was that of the Poles.  A nation that craved independence from Germany, Austro-Hungary and Russia for centuries, Poland was a nation for 21 years when the Germans and the Russians again swallowed it up with head-spinning brutality. Tens of thousands of Poles fled – via Romania to France,or via Russia through Iran through Africa to England.  They fought on for the next six years.
Among those refugees were the survivors of Poland's small but highly-accomplished Air Force.  Poland from 1918 through 1939 was a bit like Israel from 1948-1968; surrounded by sworn enemies, it took fighting seriously, and it showed; Poland clobbered the Bolsheviks in 1920 – largely with the help of Poland's fledgeling air force.  And so like the Israelis, the Polish Air Force was an elite; more highly-trained than any other pilots in Europe, the Poles gave the Luftwaffe worse than they got, even though they flew obsolete planes that should have been laughed from the skies (more next month, as we address the 70th anniversary of the invasion).  After Poland's surrender, they fled to France – and then fled again as that nation collapsed, this time to the UK.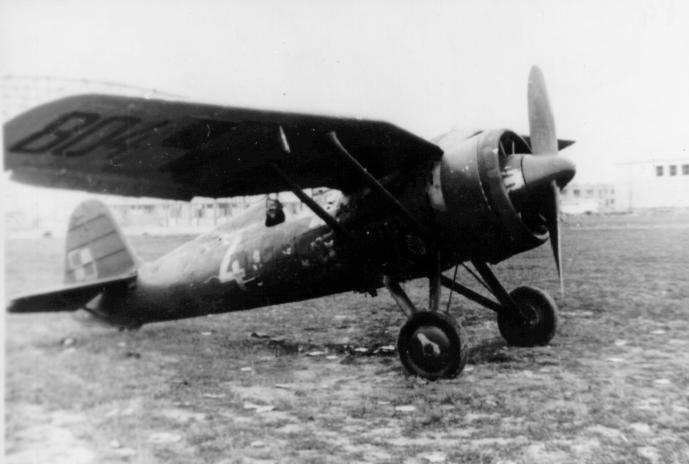 A Polish Air Force PZL fighter; the best in the world in 1932, a museum piece in 1939.

And, 69 years ago today, at the height of the Battle Of Britain, as Western civilization was pummeled against the ropes and hung on by the skin of its British teeth, the first dozen or so of these Polish refugee pilots were formed into 303 (Polish) Squadron of the Royal Air Force.
Pilots of 303 Sqn. and one of their Hurricanes during the Battle of Britain
These pilots – stone-cold killers who'd survived two debacles already – went into action at a time when the RAF was catastrophically short of pilots.  The Battle of France and the summer's air battles over southern England had bled Fighter Command dry.  Replacement pilots were being thrown into combat straight out of flight school with less than a dozen hours of experience in their Spitfires and Hurricanes, and being mowed down in turn in droves; flying a fighter plane in combat is not a game for newcomers who get less training in their planes than kid gets on a shake machine at McDonald's today.
A Polish pilot, a sergeant, climbs of of a Spitfire, later in the war.
So the Polish pilots, seasoned airmen and combat veterans that they were, were not only welcome, they were desperately needed.  And they delivered. They were credited during the Battle as the highest-scoring unit in the RAF, claiming 120 German aircraft destroyed in a 17 day rampage in September of 1940, the height of the Battle;
Battle-of-Britain-era endzone happy dance
The claims were lowered to 50-60 after the war, but that made them the fourth-highest-scoring squadron, and the best squadron flying the older Hawker Hurricane – and all in less than three weeks of furious fighting.  Used to flying obsolete Polish aircraft and, in some cases, underpowered and obsolescent French planes, they made the most of the modern, front-line Hurricanes they flew, pressing home attacks with a furious-but-professionally-precise ruthlessness that astounded their British comrades (as related by Squadron Leader Peter "Not The Guitar Player" Townsend in his classic personal history Duel of Eagles)
King George VI with pilots of 303 Sqn. immediately after the Battle.
And then they fought on throughout the war (ceding the title of "highest scoring squadron in the UK" to another exile unit, Norway's 331 Squadron).
Shot of 303 Sqn. Spitfire with squadron mascot, "Misia"
But while the French, Norwegians, Dutch, Belgian, Danish and other western exiles got to go back to their homelands after the war, the Poles faced a communist dictatorship in their homeland. Some went back; many stayed in the UK (including the Polish Air Force exile who became the father of this guy) or moved to the US, Australia and Canada, where they waited 45 years for events (and, let's be honest, Ronald Reagan, who is widely revered in Poland for his role in ending the Cold War and liberating Poland to an extent that'd amaze Americans  who've been duped by a generation of media disinformation on the subject) to finish the job they'd started in their youth.