Note to all you folks thinking of moving to North Dakota to start cashing in on the oil boom:  North Dakota is cold.  
There aren't a lot of trees.  And outside of the eight or nine significant-sized cities (Fargo, Grand Forks, Jamestown, Devil's Lake, Bismark/Mandan, Minot, Williston, Dickinson, and maybe Valley City), there just aren't a whole lot of people. 
More below the jump, so the rest of the page can load…
But you know the stereotypes.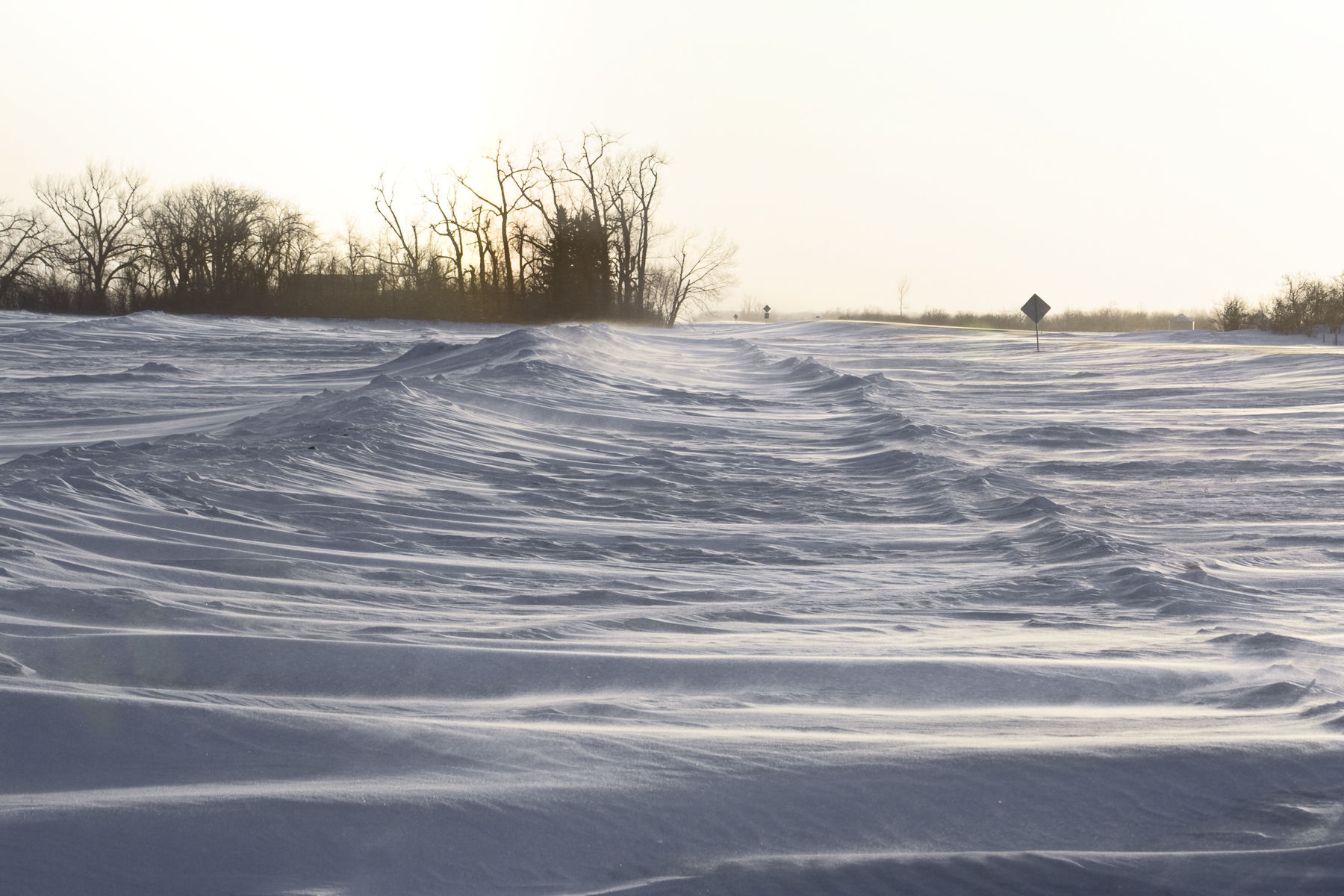 What the place lacks in trees and people, it makes up for in wind, and windy cold in the winter, and windy dry heat in the summer, and a horizon that's far enough away to give an agoraphobiac a seizure.  And above it all, a sky that a schoolgirl – a young African-American girl whose parents were stationed at Minot Air Force Base – once referred to as "big and blue and full of the mind of God" to an observer. 
We'll come back to that quote, and the observer, in a bit.
As NPR, and MPR, and the New York Times tell us (and tell us, and tell us), the oil boom is not an unalloyed blessing to everyone.  Breitbart, in a story about the increase in oil production in the state, embedded this video, from Time magazine, about three transplants (one from the Iron Range) who are having their misgivings about living in the boom.  The guys – a roughneck and a trucker – are bored with man camps and having nothing to do but working, drink, watch TV and play video games.  The woman – a gofer – misses people and free time and an outside world. 
The video clocks at about 13 minutes, and is worth a watch.
All three of the subjects of the video – shot amid what could easily be stock "North Dakota B-Roll" footage of drifting snow and howling winds – bemoan the loneliness, the isolation, the lack of…stuff. Things. Distractions. Background chatter.
And if you watch the video – or lots of the news coverage of the people moving to North Dakota for the oil boom – you'd almost think you were watching a story on Mars colonists, people who are going where nobody's gone before.
It's wrong, of course – but for most of the country, it's probably not a bad simile.
———-
On the one hand, I feel for them.  I grew up there.  Not out on the Bakken, of course; I was a city boy in Jamestown (pop. 15,000), in the eastern third of the state, then and now safely hidden away from any hint of excessive, unseemly prosperity (maybe), but with people around, down in a valley that deflected the endless wind and brought the horizon in close around me for most of my early years. 
On the other hand?  People live there.  They raise families, they have careers and homes andlives, just like anyone in Portland or Grand Rapids or New York…
…but different, too.
The schoolgirl's observation about the North Dakota sky ("big and blue and full of the mind of God") comes from a 20-year-old book, Dakota – A Spiritual Geography by Kathleen Norris.    And if you know anyone who's thinking about moving out to NoDak to cash in on the oil boom, you could do a lot worse than having them read the book.
In 1974, Norris and her husband were hangers-on in the New York literary scene; they worked for literary mags, they wrote poetry, they went to brie-and-chablis receptions in TriBeCa – all of the code terms for "thoroughly urban and utterly urbane". 
And then Norris got a letter from an attorney in Lemmon, South Dakota; her grandmother, who owned a farm nearby, had passed away, and willed the farm to Norris and her husband. 
The couple went west, thinking it'd be a fun lark; hang out on the farm for a bit, then sell it and return to the city with some funny farm stories.  Like Green Acres for cool people.
It didn't pan out, of course; the Norrises became attached to the place. 
But – as Dakota reminds us – not in an uncritical way.  There is much to love about life on the drift prairie; if you're an outdoorsman, there's a lot of outdoors.  People are honest, prices low and crime virtually nonexistant (outside the oilfields with their shortages and bored outsiders), and some of the modern world's more pointless and frenetic changes get filtered out before they make it out there.  And it's a beautiful place – in a very simple, raw way.   And while the environment is raw and merciless, a professor of mine – a Philadelphia transplant who still lives in Jamestown, 30 years later – pointed out that people in the northern Plains who do appreciate things like art, music, culture and other things that transcend the here and now, appreciate them a lot more than people who are surrended by them all the time, and often practice them with a zeal that astounds him; small-town art galleries, recitals, plays and concerts are a big event; authors, playwrites and musicians crank away on labors of love that may be obscure outside the region, but are vital in the local here and the regional now.   
But the challenges and tribulations are simple and raw, too.  Mother Nature is a cast-iron bitch out there; brutal cold, wilting heat, furious storms, and above all the wind.  It never stops.  There are stories – I remember them, and Norris writes about them – of farmhouses discovered with doors open, breakfast sitting on the table, but no farmers or families; the wind drove them over the edge; they packed up and left without a forwarding address.  They had to go somewhere else (one hopes) – to get away from the damned eternal wind.  And it's been worse, you are (or were) reminded; in the seventies and eighties, the Dust Bowl was still in peoples' living memory. 
Between the weather, the sparse population and the distances between human habitation, each little settlement is like an island – an island surrounded by grass and furrows and alfalfa or wheat or sunflowers instead of water, but very nearly as isolated.   There just aren't a lot of distractions.   Even today, with the internet and hundreds of channels of cable, it's an isolated place.
And Norris' biggest observations were about the people who live there, and had for most of a century, through bonanza and dustbowl and boom and bust. 
Norris compared the locals – the people who survive and thrive in such a hostile place – to monks; people who've taken vows of simplicity and self-abnegation, who mix a sunny "Can Do" attitude to fixing up and brightening their surroundings with a monastic aesceticism that accepts a life with a level of ambient hardship and self-denial. 
It's not entirely a noble thing; generations of self-denial led to a culture that doesn't expect much, is expected to be satisifed with what it's got and not to ask for a whole lot more, and gets a little passive-aggressive about those who do.  The Norwegian idea of Janteloven  — knowing your place and not getting uppity – is alive and well (or at least it was when I was a kid).
Norris' observations were a watershed to me when I first read it, back in the nineties.  It helped me understand some of the "fish out of water" aspects of my own personality after almost a decade in the big city, and some of the things I was missing about the place – and a few that I really, really didn't. 
The three subjects of the video brought back both sides of the coin for me.  "Quit your blubbering; you came here looking for a way to make ends meet, and you found it in spades.  And STFU; people live here, and were living here long before TV and video games.  So quit crying to me about how bored you are; I survived.  You might, too", says the homer. 
The guy who left the place feels for 'em, too.   That guy wants to give the three of them – and other newbies to the area – a couple  pieces of advice:
There is no such thing as cold weather.  Only inadequate clothing. 
"Boredom" is a state of mind.  Step outside the box to keep it occupied, whatever "outside the box" means to you; read a book, become a poker master, learn the drums, get addicted to Fantasy Football…whatever.  Maybe all of the above.  Boredom is a 100% preventable disease.   God knows I had plenty of practice in my day – and I lived there 22 years.
As to the locals?  They were hard to get to know even before the place became overrun with outsiders.  But it wouldn't hurt at all to try, in your spare time.
Anyway – if you know someone who's thinking about making the move, you could worse than give them a copy of Dakota. 
Forewarned is forearmed.