Michael Bloomberg dresses up as Ray Nagin for Halloween.
Perhaps the symbolism is apt.  As New Yorkers and assorted guests from around the world gather in Staten Island to race in the New York City Marathon, Gotham's Mayor finds himself running for his political life.
With the Eastern seaboard in shambles, power and transportation cut off to some boroughs in New York, and 19 dead at the Marathon's starting line alone, it's not hard to see what Mayor Michael Bloomberg thought he was accomplishing by pronoucing that the run would continue, Sandy or not.  The Marathon has been held every year since 1970 (a relatively short time for a city with a history stretching into the early 17th century).  A continuation of that tradition could project a calming influence on a battered city and provide Bloomberg the sort of popularity boost badly needed amid his sagging approval ratings.
Instead, Mayor Mike is being seen as diverting police and rescue resources from a city in dysfunction while simultaneously diverting his attention to Barack Obama's re-election campaign.  That Bloomberg has couched his work in the latter as due to Obama's nearly nonexistent work against "climate change" might strike Gothamites as a sick joke from a Mayor whose lack of flood preparation has submereged their city while unleasing an estimated 8 million-plus rats from the sewers.  Bread and circuses might be the order of the day, but rat-traps, canned goods and diesel might be required.
Gotham hasn't suffered this much since Tom Hardy donned a goatse mask.
Writing in The American Interest, Walter Russell Mead has penned what might be the penultimate political obituary of Michael Bloomberg, save for whatever New York's technocrat-in-chief plans for the remainder of his term.  For if its anything like his third, it won't be much:
The Mayor decided to run for a third term, but he was caught by his own term limits. The hacks on the City Council made clear that they wouldn't give him an exemption from term limits unless the limits were lifted for everybody else. Disgracefully, Bloomberg took the deal and helped the corrupt political class destroy his greatest achievement….

The third term saw the Mayor struggle for a theme. His issues grew smaller and smaller: saturated fats, Big Gulp sodas—did Bloomberg really think it was worth wrecking term limits to campaign for these things? The air leaked out of his national political ambitions and the city waited patiently for his tenure to end.
Left unspoken in Read's otherwise expansive review of Bloomberg's legacy are the series of public-service failures that predated Hurricane Sandy.  The late 2010 snowfall that bedeviled most of the country snarled NYC's traffic for days, leading even Bloomberg to sheepishly declare that "we've looked at some things that we probably could have done better."  A city that had made significant progress against crime (a holdover from the Giuliani days), reversed itself in 2012 as crime stats rose for the first time in 20 years.  One of Bloomberg's few public successes had been handling Hurricane Irene; the lessons of which apparantly weren't taken to heart a little over a year later.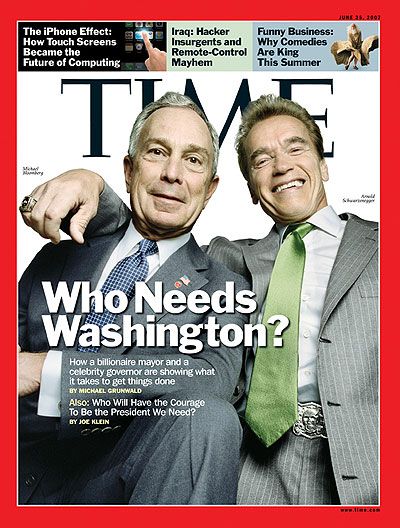 It is those failures, and many smaller ones, that strike at the heart of what was once Michael Bloomberg's appeal – results-oriented governance.  Bloomberg may have been a cold, aristocratic figure who lacked much of a "common-touch" with the plebs of NYC, but he stood between many average New Yorkers and the army of liberal partisans who saw City Hall as Grand Central Station for a variety of socioeconomic engineering ideas.  So what if Bloomberg liked to chase grandoise ambitions of national office or dabbled in Nanny-state legislation that brought him media acclaim?  As long as the power stayed on, the trains ran on time, and crime was down, who cared if your fried chicken tasted like crap since it wasn't cooked with trans-fats?  For most New Yorkers, it was the small price of electoral business.
In politics, like business, people are willing to pay for flaws as long as they outweigh the perks (witness the long lines for the latest iPhone).  Today, few New Yorkers will be thinking about sodium intake or banned salt shakers.  But they will be asking themselves if Michael Bloomberg cares more about his agenda than the city's.
ADDENDUM:  Mayor Mike listens – sort of – and cancels the NYC Marathon.  But not without casting a few stones at those who criticized his decision to Keep Calm & Run On:
"We would not want a cloud to hang over the race or its participants, and so we have decided to cancel it," Mr. Bloomberg and the organizers said in a joint news release. "We cannot allow a controversy over an athletic event—even one as meaningful as this—to distract attention away from all the critically important work that is being done to recover from the storm and get our city back on track."