It was thirty years ago today that Bruce Springsteen released Nebraska.
In many ways it foretold the future not only of Bruce Springsteen, but of the business of popular music – and in both cases, it was a mixed blessing.
In the early 1980's, Bruce Springsteen was very nearly on top of the world.  He'd just released three of the most acclaimed albums ever – Born to Run, Darkness of the Edge of Town and The River, the "Holy Trinity" as Springsteen fans refer to them.  They were evolutions on Bruce's first two albums, Greetings From Asbury Park NJ and The Wild, The Innocent And the E Street Shuffle, with clear debts owed to everyone from Elvis to Van Morrison to Gary "U.S." Bonds to Bob Dylan; Springsteen's first five albums owed as much   to sixties R&B as they did to the rock and roll of the era.
And however it all went together, Springsteen was on the ragged edge of superstardom.
And it was as if to take a quick step back from the edge of being a mega-star that Springsteen released Nebraska.  Recorded on a TEAC TASCAM four-track cassette recorder in the kitchen of the Rumson, New Jersey farmhouse he was renting after the tour for The River let up, the "master" – a common cassette tape – was intended to be a demo for showing the E Street Band some songs he was proposing for his next album.  They rattled around in his pocket for a few weeks before he showed them to his producer, Jon Landau.
Weeks of recording with the band were aesthetically disappointing – and so Springsteen and Landau, against the wishes of CBS Records, opted to electronically "clean up" the cassette recording, but release it more or less as it was.
And after the jangly thrill ride of Born to Run, and the sobering but powerful statement of Darkness and the sprawling eclectic grab bag of The River, the new album was a shock.
The songs – just raw, barely-processed guitars and vocals, garnished with a few accents of harmony vocals, harmonica and mandolin – were sparse to the point of "gaunt".
Radio didn't know what to make of the album.  Q98 in Fargo – at the time a fairly daring mixed-format rock and roll station that blended Judas Priest and Husker Du in a melange of rock and roll joy that nobody could get away with today – actually ran disclaimers before playing the songs on the air.  Which they did for a few days, before moving on to different fare.  It was just not radio-friendly.
Unlike every album before, Nebraska was unremittingly bleak.  Even on Darkness on the Edge of Town, the darkest album Bruce had released, there was the release of "Backstreets", the testosterone-laced binge of "Candy's Room", and "The Promised Land", a hymn to redemption.
But Nebraska?  The closest the album came to a "single" was "Atlantic City", a song about a small-time grifter ekeing out an illegal living among the decay on the Boardwalk:
All gaunt harmonica and disembodied howls of anguish, this was as close to "radio-friendly" as the album got.
Less so?  The title cut – a retelling of the Charlie Starkweather killing spree:
On the song and the album, there are no happy endings. It's as unremittingly bleak as a German post-industrial synthesizer band. It's harder than any so-called "metal". There is no hope, no redemption.
And it marked several breaks for Sprinsteen – and the music industry.
With the album, Springsteen turned a couple of corners.
Stylistically, it was the end of Bruce Springsteen the Jersey Shore bar-band rave-up-meister.  While his earlier material had owed much to Van Morrison, with healthy nods to Mitch Ryder and all the "White Soul" bands that Bruce had cut his teeth on during the sixties, Nebraska was the beginning of Springsteen's mining of American folk and country traditions – which he's still doing, more or less, today.  Springsteen's career, very literally, can be measured Before Nebraska and After Nebraska.  Even Born in the USA -still two years in the future – which would make Springsteen a megastar, sounded like variations on Nebraska, either in terms of style…
…or content.  Which was the other corner; with this album, Springsteen began a delving into politics which escalated to The Ghost of Tom Joad in 1995 – as gaunt and bleak as Nebraska, although not nearly as raw – and never really receded.   Springsteen had not even been obliquely political before 1982.
There was really no going back after Nebraska.
Now, Springsteen's career had high points after 1982.  His commercial star was just heading towards its apogee; in two years, he's be rivaled only by Michael Jackson, Prince and Madonna as one of the eighties' American mega-stars.  Tunnel of Love and The Rising were two of the best albums Springsteen ever released…
…but both of them traced their roots not to the Beatles, Eddie Cochran or Mitch Ryder, but via Nebraska to Pete Seeger, Woodie Guthrie and their peripatetic bastard child Bob Dylan.  Indeed, it's my theory, and only a personal one, that Nebraska was Springsteen's attempt not only to approach being a superstar on his own terms – daring his audience to follow him through one of the most dismal (if brilliant) albums ever to grace the Billboard Top Forty – but to shut down the "New Dylan" moniker that'd followed him up until Born to Run, by doing an album even Dylan himself would never do.
I followed him through Nebraska, of course.  I'm still a fan.  But the Springsteen of 1989,  of 1995, of 2001 and 2012 are all very different than the Bruce of 1980.  And it all traces back to Nebraska.
After megastardom arrived in 1985, with Born in the USA and his arrival as the biggest American touring attraction of all time, any hipsters that still claimed to like Bruce dropped him like he was Katrina and the Waves.  That's just what hipsters do.  And it was a mark that this too had passed in the early nineties, after Bruce's retreat from megastardom, that the first Springsteen album hipster music critics reclaimed was Nebraska, the album that nobody else yelled to hear cuts from at his concerts.
The hipsters had it wrong, too, of course – they always do.
———-
Nebraska had one more epic impact on the music industry,  Its production – on a four-track cassette deck that any musician could buy for under $1,000 – foreshadowed the do it yourself nature of music that would overtake the music industry with the arrival of the internet a decade or two later.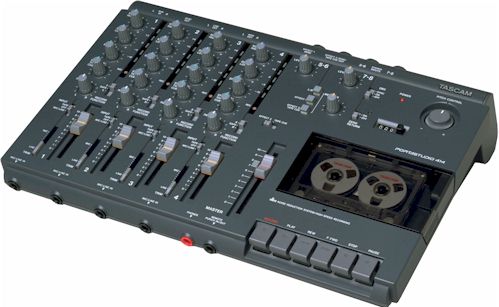 It harnessed much of the recording power (if not the absolute tape fidelity) that'd been in commercial recording studios ten or fifteen years earlier.  With a little creativity, a would-be engineer could record, bounce and overdub many tracks together, enabling one guy to put together a full band demo (I spent two years doing this) or just banging out a couple of instruments in a demo, as Springsteen did.
And while the TASCAM didn't produce ready-for-radio output – the Springsteen bio Glory Days by Dave Marsh chronicles the technical battle to make the crappy cassette master as ready for prime time as it turned out to be; if you follow recording engineering at all, it's a fascinating, if ultra geeky read.
But it – and Nebraska's success – started the dream that was realized two and three decades later, today, when a home computer has the same digital firepower that million-dollar studios couldn't muster thirty years ago.
In a sense, as the first "DIY" album of its era to actually get released by a major record label, Nebraska played its role in the current re-jiggering of how the music industry works.