Much of the developed world has been eulogizing Steve Jobs for the past couple of days.
The world may not need another obit – especially from a guy who hasn't worked with any Apple products in 17 years, and owns only one old IPod.
But Steve Jobs has had an extremely large impact on my own life – or at least my livelihood.
Before the Apple Macintosh, computers were the province of the geek, the twidgie, the engineer.  They were functional tools, to do functional things; remember the term "Data Processing?"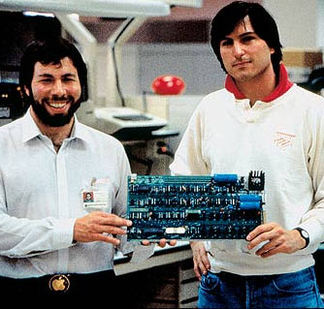 Doing graphics was as much a mathematical as aesthetic project.
In conceptual terms, computers had a huge, obtuse vocabulary; a very literal one, in fact, in the forms of lists of commands, usually cryptic and often byzantine, to do…everything.  From seeing the files (itself a vocabulary term) that you had to actually doing anything with them, you had to know, or find, a long list of things to type into the machine – itself a foreign and unnatural process.  And then once you got past the process of finding your stuff, you had to actually try to accomplish something.  Remember WordPerfect, with its' big blue page with not a single hint of what to do next, and the industry of classes to teach you how to use the program?   Or WordStar, with its array of "dot commands" inset into the text you were typing, to control things like indentation, formatting, font and everything else?  In both WordPerfect and WordStar (and early versions of Microsoft Word for DOS, if you remember it), you didn't even see what your document was going to look like, other than a clunky and not-very-literal "preview mode".
The problem was that computers required you to learn their vocabulary, and to learn to work with the computer. Jobs – and, from the very beginning, Macintosh – realized the process of making the computer work with you, rather than the other way around – and beyond that, to make them help you accomplish things that made intrinsic sense regardless of the technology.
Like typing and drawing, sure…
Jobs changed that by slashing the "vocabulary" – from "DIR" and "CD HOMEWORK/HISTORY" and "cat *.exe" and "roff termpaper" to point, click, and drag; from having to know what the the computer needed, to a simple set of actions that would make it do what you needed.
And to do that required a new class of IT worker – people whose job it was to help understand what users really needed out of software (and hardware, and everything else, really), and to work with programmers and analysts to, essentially, make software at least suck less,and, with enough effort and vision, basically disappear from the equation – to essentially get out of the way between the user and what they were trying to accomplish.
I did say "with enough effort and vision".  It's harder than it looks.  I fell into "User Expeirence" in its various forms in 1994,and made it my career in 1998, and have been doing it ever since.  When I got into the field, it was almost unknown in the Twin Cities – no more than a dozen of us, I don't think.  Even today, it's in the low hundreds, if that.
It's a fascinating field.  And while it'd exist without Steve Jobs – it was actually started in World War 2, to make flying aircraft more intuitive and less dangerous – and it might even have reached the influence it has on technology design that it has today, eventually, it would have been an evolutionary process.  And evolution is slow and sloppy.
Jobs was a revolutionary – and the revolution was getting technology out of your way.
And it's ingenious.
———-
I didn't say I'd never bought an Apple product, other than the IPod.  That's true.  But I do have a Jobs computer.
In the eighties, after he was first exiled from Apple, he founded "NeXT".  And in an era when DOS computers used amber or green text monitors and books full of keyboard commands, and the Mac was still in its infancy, the NeXT brought a sleek, powerful DisplayEPS monitor with a fully-realized Graphical User Interface with a fully-developed user interaction idiom allowing users to accomplish breathtakingly complex things with simple actions (and a UNIX core for the geeky stuff that made DOS look like the rickety piece of garbage it was).
It came at a cost, of course; a new NeXT would run $4-6,000 at least (in an era when a new 286 PC could top $3,000, to be fair).  I got one at a fire sale as one of the last existing NeXT consulting companies folded, for $50.  And it was still better than the Windows 95 box I had at home.
And owning it conferred so much geek cred on me that I know I got at least one job purely because I owned it…
———-
I thought for a while – what's the best way to explain how Jobs "got technology out of the way?"  And then it hit me.
I've been becoming fascinated by the Hammond B3 organ lately.  I want to learn the instrument. I'm somewhat hampered by being not at all a good keyboard player – but the tone and harmonic dynamics of the instrument are boundlessly intriguing to me.
And Wednesday night, right about the time I'd heard Jobs had died, I checked out Mac's "Garage Band" on an IPad.  It's got a fairly slick little B3 emulator – one where you can work the drawbars and presets to get the various tones out of the instrument, and plug in a MIDI keyboard to actually play the registrations you set up.
Which is cool – it gets the technology of the computer out of the way, and gives me a direct simulation the instrument to play.
Which leaves me the hurdle of having to conquer the technology of playing the keyboard.  Which I can do, more or less.  Long story.
But then Apple went one better – focusing on the task ("making the organ play something"), it gives you a simpler mode:
A set of vertical bars – one for each chord in a selected key (the key of A, for example, includes A, D, E, G, F#m, Bm, C#m and Bdim,I think).  Tapping the lower bar plunks a bass note – the farther down the scale, the lower the registration.  Pressing the middle and upper bars plays the chord on the "keyboard" – the farther up, the higher and brighter and louder the registration; lower down the scale gives you a mellow, subtle sound, while pressing the very top sounds like you're going to blow the cone out of your Leslie speaker.  The very top bar?  It gives you a B3 with all the bars pulled to the stops and everything cranked; think Tom Scholtz at the beginning of "Long Time", or Danny Federici during the "from the churches to the jails" part of "Jungleland".
Bam!
(Note to Apple:  include some sort of gesture to make a palm glissando possible, and you've got me…)
And I sat down and played "Refugee" and "Sixth Avenue Heartache" and "Jungleland" – not just like the record, but pretty darn cool.
Because technoloy got out of the way.
And that is such a great thing.
At any rate – RIP Steve  Jobs.