Here's Israel today: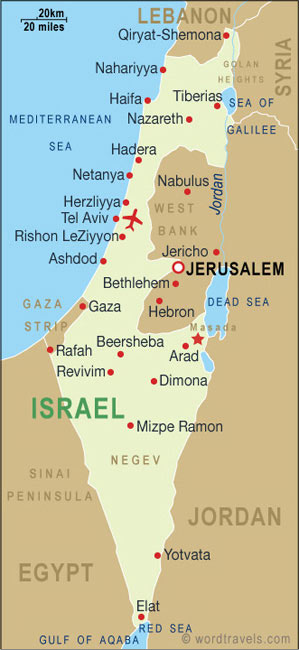 Note the brown glob of the West Bank and the little strip between Gaza and Rafah – owned by Israel, with sizeable Palestinian populations.  These populations are largely highly hostile to Israel.
Here was Israel in 1967:
Doens't look much different, does it?  And it's not – except for the fact that there are Israeli troops securing the West Bank.  Note the numbers.  They're distances to Israel's major population and economic centers.   When Arabs controlled the West Bank before 1967, every major population center in Israel was threatened.  Today, with Iran supplying Hamas and Hezb'allah with more modern rockets, terrorists can scourge most of Israel at will, if the "peace process" breaks down.
As it will, inevitably.
Obama is insane if he thinks this is a rational solution while the Palestinians are controlled by people who still reject the idea that Israel has a right to exist.   The Israelis are right to reject it out of hand.