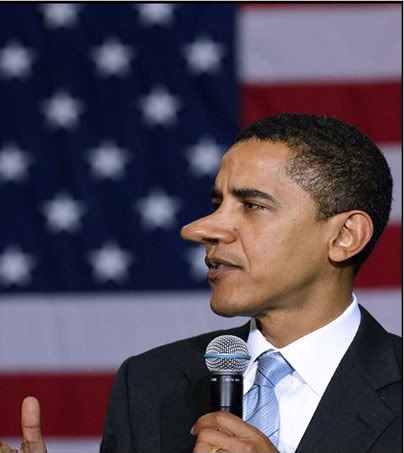 Barry is selling it but not everyone is buying his form of plagiarism.
President Barack Obama said U.S. job growth is improving after a government report showed employers added 103,000 jobs last month and the unemployment rate fell to 9.4 percent in December from 9.8 percent in November.

In his weekly radio and Internet address, Obama today credited steps taken by his administration to reduce taxes and encourage business investment with helping to restore economic confidence and boost hiring.
Really Barry? Steps taken by your administration are responsible for discouraging people from looking for jobs?
A little perspective might be indicated at this juncture, with all due respect, Mr. President:
Although the jobless rate dropped substantially to 9.4% in December from 9.8% a month earlier, the Labor Department said Friday, employers increased payrolls by only 103,000. Economists say that is barely enough to keep up with natural growth in the labor force. Much faster employment and enduring job gains—on the order of 200,000 jobs a month—are needed for lasting improvement.

The decline in the jobless rate, paradoxically, was partly a sign of economic weakness—many people have given up on finding jobs, and thus were not counted as unemployed. Some 8.4 million jobs were shed during the recession, and in 2010 just 1.1 million were added.
Between you and a Congress that was almost gutted of your ilk in November, you've spent billions and billions of dollars that we don't have…sacrificing our nation's very solvency to create a few hundred thousand jobs when millions and millions have been lost?
Employers in the U.S. added fewer jobs than forecast in December, confirming Federal Reserve Chairman Ben S. Bernanke's view that it could take "four to five more years" for the labor market to completely mend.
…and that may be just as optimistic and his assertions that the latent, yet unrealized effect of the trillions of "quantitative easing" will be quite manageable down the road.
Payrolls increased 103,000, less than the median projection of 150,000 in a Bloomberg News survey, Labor Department figures showed yesterday in Washington. The jobless rate fell to 9.4 percent, partly reflecting a shrinking workforce as discouraged Americans stopped looking for work. [emphasis mine-JR]
Lest we not forget why those [JR does that thing with your fingers that denotes quote-unquote] "steps" were taken by [again] "his administration."
Mr. Obama attributed increasingly optimistic economic forecasts in part to the deal he negotiated last month with Republicans to extend Bush-era tax rates for all, along with unemployment benefits, a payroll-tax cut and assorted other tax breaks.
A deal decried by liberals. A deal that was essentially forced upon him. A move that Obama could have made two years ago had he truly been focused on jobs then.
It is a product of the aforementioned "shellacking" (in the President's words no less) in November coupled with a sashay to the middle to save what little is left in his political capital account.
President Obama may owe former President Bill Clinton a few finder's fees, considering all the former Clinton aides he's been bringing into his administration to help him get through the next two years and win a second term.
Maybe my title should be "Back-Peddler in Chief."
Pat yourself on the butt Mr. President.
Mission Accomplished.